Should I buy the LifeSmart Cololight Pro?
3 min read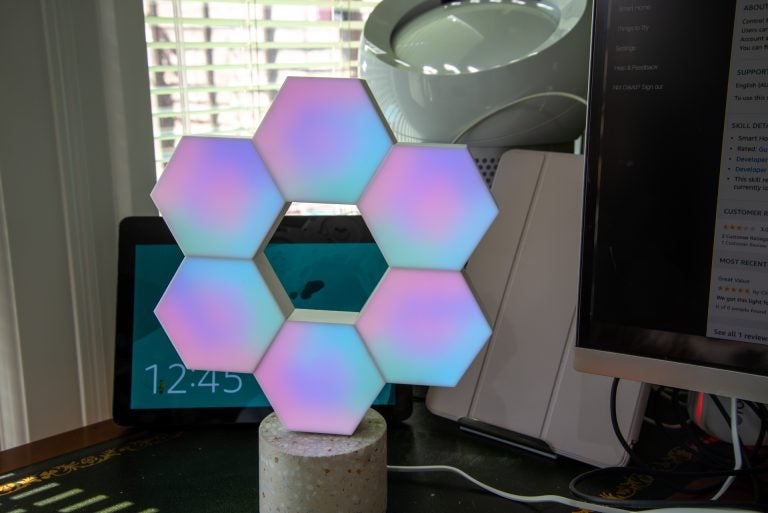 Do you want light panels with changing colors that you don't have to stick to the wall? LifeSmart Cololight Pro could be the light for you.
Lights don't have to be on, they can be fun, as LifeSmart Cololight Pro shows. Consisting of a series of LED panels that you place in any order you want, this lighting set allows you to create any design you want. In addition to displaying static colors, dynamic effects add some interest to the mix, and you can even change the color of the lights to match your music. A base instead of a wall mount means you can change the lighting at any time.
The power of LED lighting means that the light not only has to be functional, but also fun. I've seen this on customizable smart LED panels, but most of these products require wall mounting. LifeSmart Cololight Pro makes work a little easier, as you can use the included bracket to assemble the panels in any pattern for a fun, smart light.
A bit of fluffy software and a slightly cheap appearance of the product reduce the charm a bit. However, if you want a light source that you can adjust and change, this is a great value.
LifeSmart Cololight Pro is supplied as a package with three light panels with a plastic base or a version with six panels and a stone base. Each LED panel is a hexagon with connectors at each end. The first control panel connects to the USB power cable, then connects the others in the order you want to create your own light pattern.
Be sure to follow the instructions, as the panels need to be connected in a very specific way with two types of connectors – long connectors provide power and short connectors are for stability only.
The advantage of this system is that it is not necessary to fix the panels to the wall like the competing Nanoleaf Canvas system. However, the downside is that LED panels look a bit cheap when turned off and are more visible on a bracket than on a wall.
There is a touch button on the back of the power connector that can be used to turn the lamp on or off and perform certain effects. Having physical control is good, but touch is almost impossible to feel. Generally turning the light on or off with this method is inconvenient.
As soon as you've assembled your lighting, the smartphone app takes control. You need to pair the light with your phone via Bluetooth first, then you can connect the LifeSmart Cololight Pro to your Wi-Fi network.
In the app, you have access to all controls, including dynamic and static settings. With static settings, you can easily adjust the light to one color.
If you want to configure each panel with a different color, you must first go to My Library. Next, you have to manually draw the shape you created. You can then configure each control panel with a different light. Well, you can work with most shapes, but some create color pairs and I can't replace them. The Nanoleaf Canvas is more polished because it automatically detects the shape and arrangement of your lights.
There are also dynamic effects that LifeSmart Cololight Pro can use to display swirling or changing color patterns on the screen. You can use the predefined colors or create your own by choosing the colors you want and then the type of color movement.
Finally, you can add the capabilities of Amazon Alexa or Google Assistant to easily turn on and off and control the brightness of the lamp, as well as adjust the colors.