Aomei Backupper Pro Review
3 min read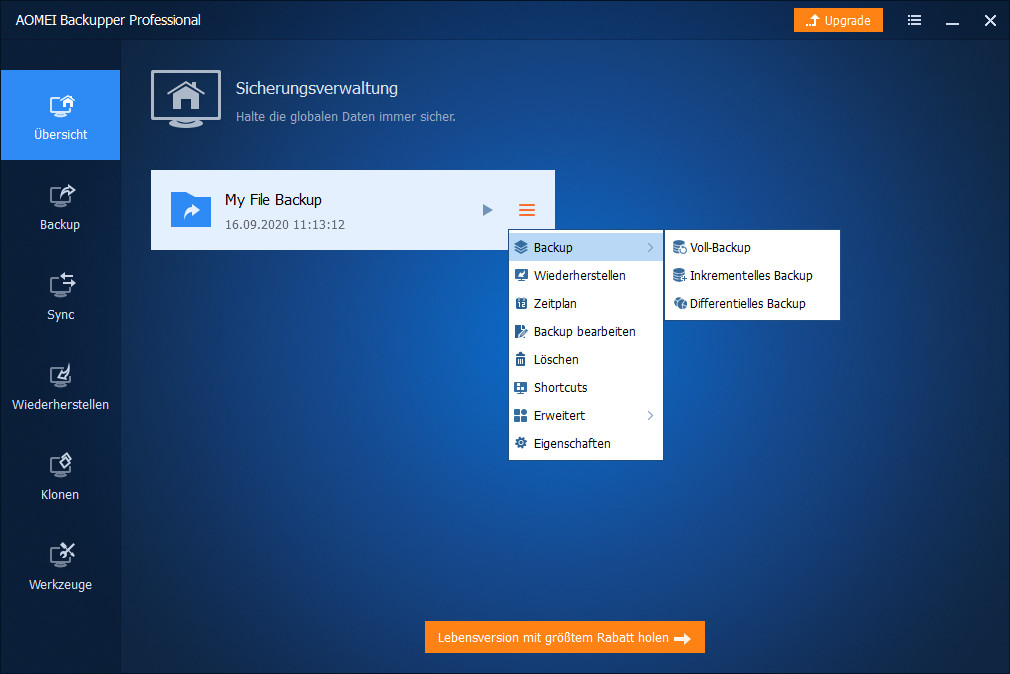 With "Aomei Backupper Pro" backup software, create backup copies of hard drives and partitions as well as system partition. You can also back up individual files and folders. The created image files can be used to clone drives and partitions, to create 1: 1 copies on new media, to migrate the operating system to a new hard drive, or to integrate image files as virtual drives. . In addition to full-time or event-driven backups, the backup tool can also process incremental or differential backups and delete obsolete backup files independently of each other. You will have password protection during the backup process. You can compress the data or divide it on several data carriers.
With "Aomei Backupper Pro" backup program, you can back up files and folders, clone drives and partitions, or make backup copies of your Windows system. If you want to sync data with your laptop or cloud storage, use real-time file syncing. The backup software saves the backups on local drives, USB hard drives, CDs, DVDs, NAS storage devices, or in folders in your cloud service, such as Dropbox, Google Drive, OneDrive or Box. "Aomei Backupper Pro" offers password protection, compression or data splitting and allows flexible backup plans. If desired, the backup software will also initiate a data backup when a USB drive is connected, when a user logs in, or when the system is shut down. The tool supports "Volume Shadow Copy Service" to back up system files during operation. Other useful functions include image merging, editing partitions on target hard drives, or backing up dynamic hard drives.
AOMEI Backupper Pro: use differential and incremental backups
In addition to backing up a drive or partition once, you can use backup plans to ensure you have access to the latest data in the event of a system failure, while maximizing the space required. In return, "Aomei Backupper Pro" can perform incremental and differential backups. With the differential method, the backup tool first creates a full backup. Then only the data that has been changed or added since the full backup is saved. Incremental backups are faster and save more space, accounting for changes only after a full backup.
AOMEI Backupper Pro: clone Windows to a new SSD
Besides "simple" data backup or cloning entire disks and partitions as image images, "Aomei Backupper Pro" offers an interesting additional function. You can use the backup tool to migrate Windows, which means that you can install your operating system on a new SSD system hard drive, for example, without having to reinstall Windows and existing applications. Restoring a system partition on a new PC with changed hardware is more difficult, but it is not a problem with "Aomei Backupper Pro" either. Here, the so-called "Universal Restore" restores a system to a computer with different hardware.
Synchronize files in real time and create a rescue CD
Also of interest is the synchronization of complete files and directories in real time. For example, if you edit Word text or an Excel spreadsheet on your PC, "Aomei Backupper Pro" will recognize it and the document will immediately update to the specified destination directory, for example. B. in the desktop folder of your OneDrive account or in your Dropbox. So you can be sure that the latest data is always in your cloud. Even if worst comes to worst, Aomei Backupper Pro allows you to take precautions by creating rescue media. The boot disk is built as a Windows PE system or as a Linux environment.
AOMEI Backupper Free: Free Data Backup
Free Volt CD or Realtime Sync is no longer supported. You can still easily access the backups you made with the Aomei Backupper Pro version.