Motospeed CK700: Designed for female players
2 min read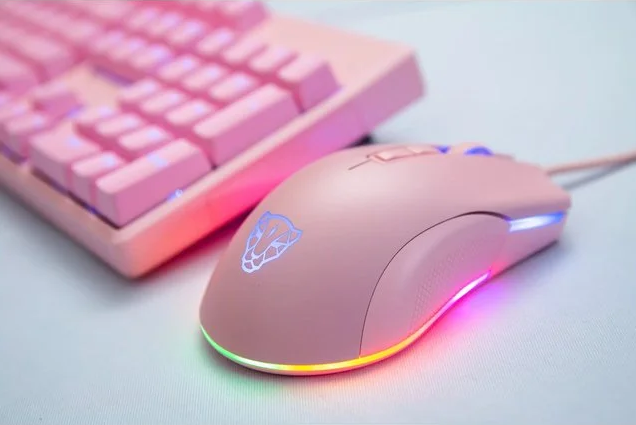 This is a Motospeed CK700 Combo Pink Version Gaming Keyboard and Mouse, Motospeed V200 Gaming Mouse with two Emerald and Pink color options.
In recent years, female players from manufacturers in the computer industry have been very interested, as they have continuously launched the product line specially developed for women. Recently, the Motospeed brand also launched a play set for women.
In particular, the Motospeed CK700 Combo Pink version will be a gaming computer keyboard and mouse that all gamers will want to own. The product not only has a feminine pink color, it is also equipped with optimal technology to support games.
When the Motospeed CK700 series keyboard uses Zeus optical switch with low latency and long lifespan of up to 60 million clicks. The use of the new generation optical switch also enables Motospeed to develop a keyboard with optimum resistance to water and dust. Plus, the one-click click while typing is a pleasure, similar to a mechanical keyboard.
Motospeed also comes with a blue monochromatic LED each time a key is pressed, which helps make the Motospeed CK700 keyboard brighter and more impressive when in use. The 104 keys of this gaming keyboard are all anti-ghosting for the best gaming experience.
The Motospeed CK700 series gaming mouse is no less dressed in a feminine pink outfit. The mouse is also integrated with RGB LEDs found on the bottom, the two edges of the central navigation button and the brand logo.
In addition to the two large Teflon mouse legs, the Motospeed CK700 gaming mouse is equipped with a robust Huano button with 20 million clicks. This gaming mouse also features a Pixart PMW3320 optical sensor with a resolution of 500-3500 DPI for fast movement speed and high precision.
In addition to the Motospeed CK700 gaming gear combination, gamers can also choose from a Motospeed V200 gaming mouse in two different colors, emerald green and pink. Without a monochrome design like the Motospeed CK700 Combo Set, the V200 Gaming Mouse is a combination of two interesting black – turquoise or black – pink colors. And of course Motospeed also uses RGB LEDs to add to the mystique.
The Motospeed V200 Gaming Mouse features a robust Omron button, a large Teflon tab, and connection with a gold USB port and umbrella-covered cable. This gaming mouse is equipped with a Pixart PMW3325 optical sensor with a resolution of up to 5000 DPI, which achieves an image processing speed of up to 5000 FPS and a pixel tracking speed of 60 IPS.
Combined with a response time of 2 ms, the Motospeed V200 gaming mouse offers not only high speed of movement, but also high precision. It is suitable for monitors with 2K resolution and today, many gamers choose 4K.