LifeSmart Cololight: Tips for smart mood lighting
4 min read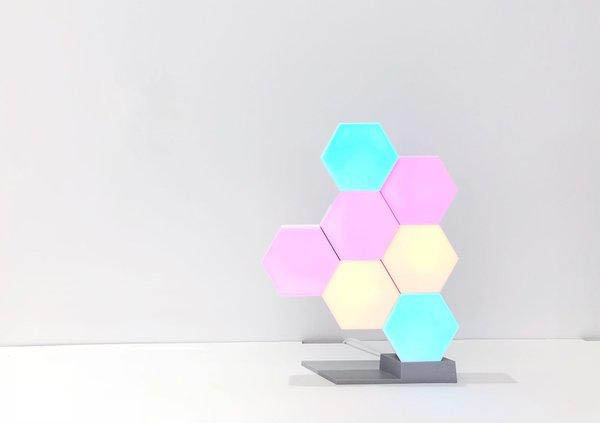 It is often not necessary to fully equip the house with smart lighting. Sometimes a well-placed ambient light is enough to create a cozy atmosphere. In addition to table lamps, for example from Philips Hue, modular light panels such as those from Nanoleaf are also possible. The LifeSmart Cololight modular table lamp combines both principles. The hexagonal LED modules can be mounted in artistic shapes and figures on a base and placed on a table, sideboard or shelf as an eye-catching attraction. They dominate dynamic light changes with combinations of 16 million colors that users select through the app and WiFi connection. LifeSmart Cololight also includes voice commands from Alexa and Google. Also, inexpensive WiFi light modules don't weigh as much on the budget as other smart light sources. Sounds good. But what is the quality of the offer in practice? We tested LifeSmart Cololight.
LifeSmart, newcomer to German smart homes
The Chinese brand LifeSmart claims to have a lot in its local market. With a specific search, we can find LifeSmart Cololight on Bzfuture.com. It is a basic set with a base, a WLAN control unit and six light modules with 19 light-emitting diodes each under a milk-colored plastic surface.
Quickly assembled and configured
With the help of the Quick Start Guide printed in English, LifeSmart Cololight is ready to use in minutes. The control unit and light modules can be quickly assembled with connectors and firmly fixed to the base, even in the exotic shape of a cactus with a hanging arm. Each lightweight module is also a flyweight and weighs only 50 grams. Measuring 86 x 74.5 x 30.5 millimeters, a module fits in the palm of your hand. The LED modules are designed to be freely supported by the 500 gram base.
Since the control unit transmits directly to the router via WLAN, there is no need to install additional hubs. The network must use the 2.4 GHz frequency, but Cololight will not connect to a 5 GHz WiFi network. The WiFi connection between smartphone, router and LED modules is established with the application, available for iOS or Android. LifeSmart Cololight is ready for testing. Since the USB cable permanently connected to the control unit is only one meter apart, the desired location should not be too far from a power source. Up to 30 LED modules can be supplied with one power supply.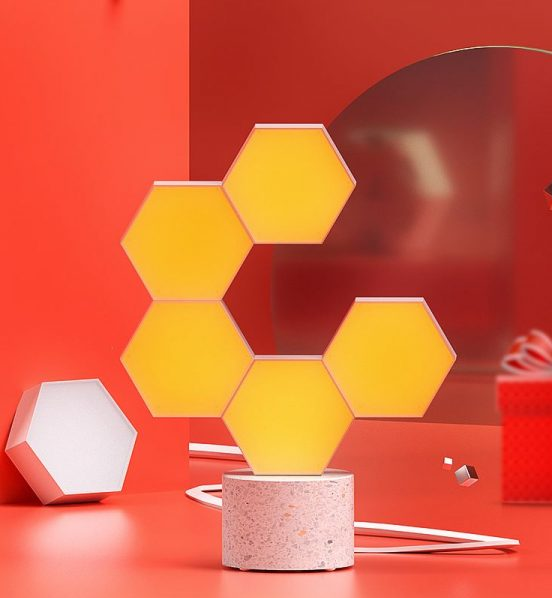 Operation via touch button, app, Alexa and Google Assistant
With a touch button on the back of the WLAN control unit we can turn the LifeSmart Cololight on and off and change some color effects. However, since the sensor button can only be vaguely felt without haptic feedback and the app already offers more effects to choose from, we prefer an iPhone or Android smartphone.
In the Cololight app, we choose from different layouts for dynamic color changes and color effects. If the WLAN modules are switched in the form of certain digits, suitable scenes are also available. So the light patterns look like a decorated Christmas tree or a stylized rose flower, for example. But we don't have enough light blocks for these characters. In addition, we determine in the app the start-up effect on power-up and the brightness, which can be continuously dimmed.
Wonderfully raucous – this is how LifeSmart Cololight shines in the test
In any case, LifeSmart Cololight is not suitable for evoking romance in the living room. The light is too cool for that and the color scheme is too bright to look neon. On the other hand, if you want to let the songs fly on the dance floor and while you perform, you will find corresponding garish lighting on the smart LED modules. In-app sound detection can even light up the LifeSmart Cololight to the beat of the battery if needed. What we like the most is the preset effects with solid colors that change dynamically.
Conclusion: smart and inexpensive bird of paradise with easy handling
The selection of smart ambient lights with WLAN and app control has been expanded to include a recommended alternative. The LifeSmart brand fills a gap with the Cololight form factor. We are not aware of any compact light modules with dynamic color effects as table decorations from other brands in this way. The hardware and software are easy to configure and use. We experience smooth handling. Another benefit is the integration into Alexa routines and Google Home processes.
In terms of effects on the living environment, LifeSmart Cololight stood out in the test for its blending options and sharp dynamic color effects. LEDs are too bright for subtle backlighting. Therefore, the lightweight building block system is especially recommended when users want to highlight it as an eye-catcher.